stats;
GENERAL INFO:Full name:
Anthony Edward (Dicknose) Stark
Canon:
MCU
Timeline:
Iron Man III
Age/Birthday:
5/29/70; 43yo
Race/species:
Human
Appearance:
Robert Downey Jr. with a glowstick in his chest.
Occupation:
Stay-at-home Robot Dad. Also he saves the world sometimes.
Relationship status:
His girlfriend is a very prestigious CEO
Family notes:
Orphaned yo, only child.
Personality notes: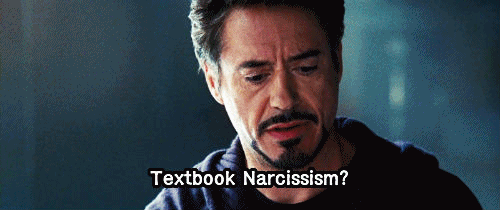 Medical info:
He's not dying anymore, it's cool.
Abilities:
He's a genius with two pretentious as fuq degrees from MIT? He's an engineer. Also Iron Man. It's a whole thing.
PERMISSIONS:What is okay to bring up with them/what isn't?
Literally nothing is off-limits, he'll give as good as he's got.
What kind of character do they get along with/don't get along with?
He nerds out over other nerds. Oops?
Can my character be hurt/knocked out/overpowered/killed/etc?
He's a decently in shape 40yo, so yeah. In the suit, different story.
Are they the type to fight/get involved in fights?
Hahaha yes. Physical and verbal y.
Can my character be subject to pranks or trolling from others/are they the type to do this to others?
Pranks pranks all the time.
Can your character see/acknowledge mine's threads with others/their every day lives/see them with friends or a SO?
Yes I love stuff like this. He's a weirdo so he'll notice too.
Can others break the 4th wall/is your chara the type to break the 4th wall?
Everyone knows he's Iron Man so that's a thing. Marvel tends to 4th Wall itself. Yes on both counts as long as there's a discussion? Otherwise hey you're that guy on TV works.
Any other notes?
Nah.
OOC PERMISSIONS:Is thread-jacking okay?
Yes please and always.
Is backtagging okay?
I am a busy adult and not always the quickest tagger, but I won't drop a thread if you won't. Let's keep tagging into the Sun guys.
What can characters hand-wave about yours?
I like hand-waved things, again, as long as there's a discussion!
What is okay to bring up in threads/what isn't?
I'm okay with whatever is IC for your character, as for Tony he does have PTSD so things that remind him of his trauma can set him off. Especially water, crowds, loud noises. But sometimes it's random too.
What's the best way to reach you to plot with you?
Plurk
is fine.
Anything else?
Nope :)